OT: My LootCrate dream collectibles crate
Hello everyone! Today I want to do a post a bit different from the other ones: I guess you've already noticed the "off topic" tag over here. I want to make a game that Carly of LootCrate has asked me to do. LootCrate has some kind of subscription service where you pay a monthly fee and each month you receive a box with some collectibles around a chosen theme. For example if the theme is "villains" you may receive a key chain of Darth Vader, a mousepad of The Joker and the glass of Lex Luthor. The cool part is that you don't know what you're gonna receive, it's just a surprise!
They asked me to write a blog post about my dream crate and I thought it would have been a funny idea. The funniest thing is that I'm not into collectibles and neither into comics, anime or stuff like that, so I'll just write stupid things for which Carly is going to kill me. But I hope you will like it so much that LootCrate is going really to make a dream crate about it!
(Ah, btw, I know that you're thinking this is a sponsored post, but actually it is not!)
Theme that I've chosen for my dream create: Virtual reality villains
Palmer Luckey's Flip Flops
In virtual reality world, Palmer Luckey has been depicted by a genius that has started a VR renaissance; then it suddenly started becoming an evil troll that answered angrily to people on reddit, made memes agains Hillary and violated NDAs made with Zenimax. While I still love him a lot, lots of people started seeing him as the villain of VR. He has currently disappeared from the VR scene, but according to a recent interview published by Road To VR, he is ready to come back stronger than ever.
But what collectible we all want of him? His flip-flops of course. But also hawaiaan shirts should be ok. In my dream crate I've all his suit so that I'm ready to become the next VR villain.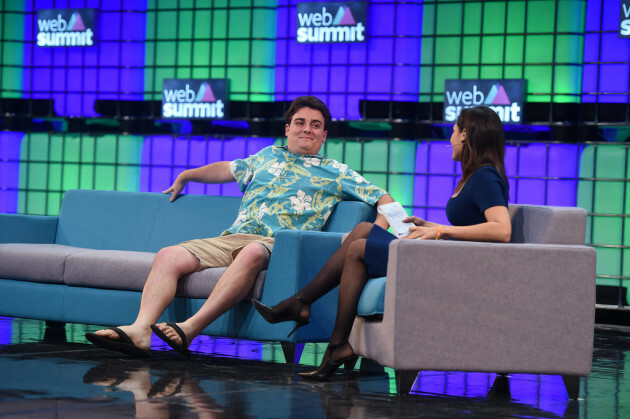 Even having his bra shouldn't be a bad idea after all…
Scarlett Johansson
She has been part of The Avengers and also of the movie Ghost In The Shell, that also had a virtual reality experience. VR experience wasn't that good, so we can insert her into the Villain category.
From her I just want… her. It would be hard for Carly to tie her, put her into a box and send her to me, but I'm confident in LootCrate capabilities.
Umbrella Corporation umbrella
We all love Resident Evil: I remember having played the 3 as my first episode and then having switched back to playing 1 and 2. Survival horror gameplay was fantastic and really was able to scare me a lot, even if it was only on a 2D flat screen. I remember playing it at night, with all lights off and scaring as f*ck because of all that jumpscares. Eh, how much time I've spent in trying to make those game work… to play episode 1 on a modern PC I had to keep Gmail open, because I discovered that this strange hack was able to give this super-old game the right number of CPU cycles (and so of game speed)!!
Now we have virtual reality that is incredible for generating emotions within horror games and so we have Resident Evil 7 for PSVR.
Umbrella Corporation is the super-evil company behind all the T-Virus outbreak in Raccoon City and of course they're the super-evil of the saga. I just want to be hired by them and kill some damn zombies in their laboratories.
There are on the market some umbrella of Umbrella and I absolutely want one of them!
Robo Recall Keychain
Robo Recall is the best of the best of the best VR shooter games. Just a pure flow of continuous adrenaline through your body… you start the game saying "let's see if it is really cool" and after three hours of shooting, jumping and dodging, you've sweaten more than a marathon champion.
I'd like to have a little keychain of a robot of Robo Recall, that is exactly as the real enemy: dismantable, so that I could take his head off while I'm super angry. I think it would be a super nice anti-stress, I should tell it to Oculus…
Sarah Kerrighan Action Figure
I know that Sarah Kerrighan, the Queen of Blades of Starcraft, has nothing to do with VR, but I love her, so I absolutely don't care.
I'd love to have some action figure of her, to put on my bedside table. I guess that this could have some side effects, like Sarah starting to control the mind of all people and animals inside my house… so cats will start gathering Vespene gas, but I'm okay with that.
—
And that's all with my dream crate. Hope that next time the postman will ring at my door, it will be this dream crate made by LootCrate guys! Come on Carly… what are you waiting for, go hunting for Scarlett!
If you're into collectibles have a look at LootCrate website… but before you leave, let me know in the comments if you loved my dream crate! (and give me suggestions for other cool VR-related crates)
(Header image by LootCrate)
Join my super-exclusive club!
Receive for free AR/VR articles like this + a weekly roundup of the most important XR news of the week straight in your inbox!